Purchasing a new sofa is an investment that must be carefully considered. There are numerous factors to consider before purchasing a new piece of furniture, whether it is your first or tenth. One of the most important decisions will be the material of your sofa and whether or not it has any extra features, such as storage compartments, cushions, and more! Keep these tips in mind when purchasing your next sofa, whether you're shopping furniture online or in person! You could simply go to your local furniture store and pick out a color you like and hope for the best, but as the saying goes, hope is not a strategy. Here are 6 things you should consider before purchasing a new sofa
Choose a sofa that not only complements your design aesthetic but also fits your lifestyle. If you don't entertain frequently, for example, a smaller 3-seater sofa may be preferable to a 6-seater couch. If you have pets or children, make sure the fabrics are stain and scratch resistant. Of course, most modern sofas are available in a variety of color options, which can be further customized with additional upholstery options such as toss pillows and table lamps. A designer sofa set in an easily interchangeable fabric allows you to change up your decor seasonally without having to buy multiple sofas over time.
When selecting a sofa, the first thing to consider is its shape. Rectangular sofas are more common, but other styles, such as L-shaped or circular sofas, are also available. There is a sofa for you, depending on your space and preferences! If you have a large room and want to maximise seating, choose a rectangular set. If you have limited space and/or want individual recliners for each member of your family, consider an L-shaped sofa set or curved set instead. Circular sofas make sense for smaller rooms with less traffic (such as your office or a guest bedroom) because they take up much less floor space than traditional sofas.
Before you choose a sofa, consider what your body will be sitting on. Manufacturers primarily use two types of padding: foam and fiber. Although foam is denser and more cushioned, fiber is lighter and more breathable. Microfiber, for example, will feel more like cotton clothing than traditional foam padding, which is notorious for retaining heat from body weight. If you want something extremely soft and plush, choose foam; if you want something light that won't trap heat or odors, choose fiber (which also tends to be cheaper). If your budget allows for it, test both types at local showrooms before buying so you can experience how they feel under your body weight. This is an important part of the  6 things you should consider before purchasing a new sofa. because comfortability is everything.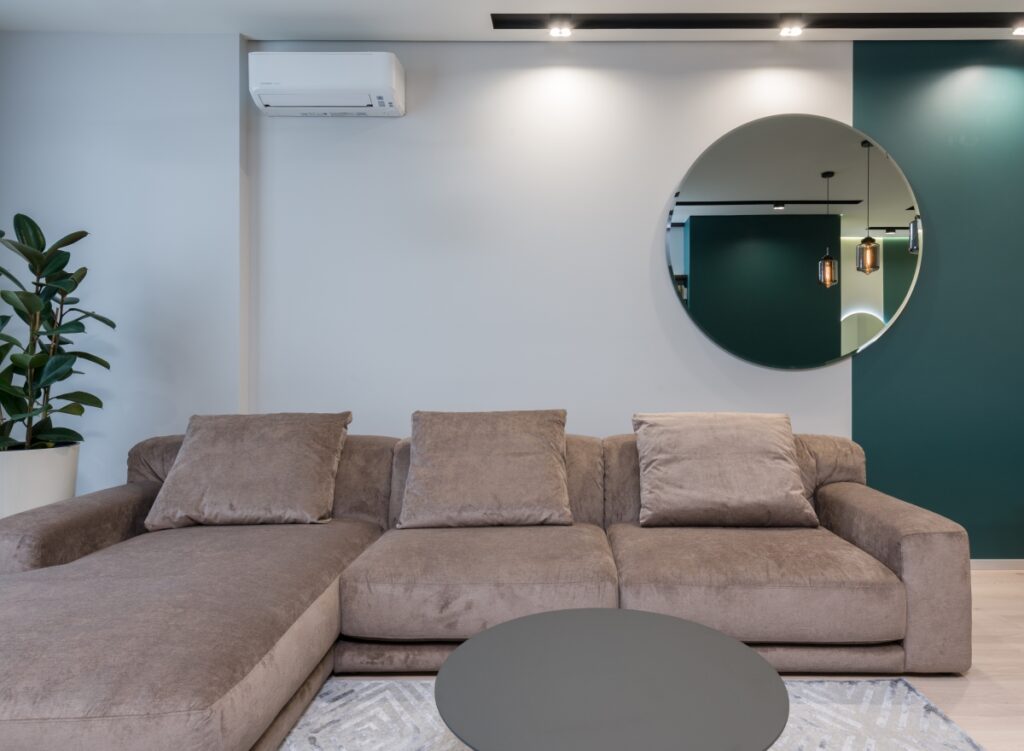 THE MATERIAL USED ON THE SOFA
Most sofas are made of leather or fabric. Leather is one of those durable materials that you can use for a long time and still look like new after a few years. Fabric sofas however tend to be cheaper, if you're on a budget, fabric might be a better option for you. As far as durability goes, both have their advantages and disadvantages. Leather does require some maintenance over time but it looks great with age. Meanwhile, fabric will get dirty more easily but it's very easy to clean. Moreover, it doesn't need any kind of special treatment in order to keep looking great over time. If either look like something you'd love in your home, then go for it!
A high-quality sofa set will not be cheap, but it will be worthwhile. Don't skimp on your sofa set; it's one of the best investments you'll make in furniture, so you want it to last for many years with minimal upkeep. Purchasing a high-quality sofa is an investment that will hold its value over time. A cheaper sofa will cause you headaches in the long run in terms of repair and upkeep, and it may not look as nice. If available, look for furniture brands that provide  warranties to save on repairs. Before purchasing, it is important to understand what materials are used and how they are assembled. Some features, such as removable covers, can reduce costs while also increasing durability. Most importantly, before buying any type of sofa or couch, always sit or lay down on it to see how comfortable it is! As more people work from home and end up sleeping on their couch or lounging around more than usual working days, it is critical that your new furniture is comfortable!
Few people would argue that their living space is big enough for a huge sofa, but far too many of us purchase furniture that are far too big for our space. It's tempting to go big when shopping for a sofa or a couch, which makes sense. As the saying goes "the bigger, the better", but is that really true in home furnishing? Big  sofas feel more comfy, nonetheless, they occupy valuable floor space. Measure your available floorspace before purchasing a sofa and determine how much extra furniture can fit into your space  before you commit to an 8-person couch. When compared to an 8-person monster, you might be surprised at how much extra space you will have for other furnishings when you opt for a 4-person sectional sofa.
In conclusion, a group of small sectional sofas can provide comfort and style without taking up every square inch of available space in your home. If your rooms aren't exactly square, consider buying a variety of smaller pieces rather than one huge sofa. Not only will you have smaller sofas that do not dominate other seating areas, but purchasing separately allows you to choose different color schemes for each piece, if desired. Choosing a number of smaller units also provides you with more flexibility as trends change. If one of your sofas becomes outdated or damaged, it will not detract from the overall appearance and feel of your living space and can be easily replaced. This concludes the 6 things you should consider before purchasing a new sofa. Happy Purchasing!!